industriële inkjet uv led a2 flatbed UV-printer

bestek
---
Usage:Bill Printer, Card Printer, Label Printer, Acrylic,aluminum,wood,ceramic, metal,glass,card board, foam board etc
Plaattype: Flatbedprinter
Conditie: nieuw
Dimensions(L*W*H):1600*1500*700MM
Weight:280KG
Automatische beoordeling: automatisch
Voltage:110~220v 50~60hz
1 jaar garantie
Print Dimension:600mm*900mm
Ink Type:sublimation /reactive /pigment, Blue,mageta,yellow,black,white,,light oil
Print Head:EPSON 7
Maximum print size:600mm*900mm
Printing Resolution:720*360dpi, 720*720dpi, 720*1080dpi, 720*1440dpi
Printing Material:Acrylic, aluminum plastic board, wood, tile, foam board,,etc
Max. Printing Size:600mm*900mm
Printing Thickness:140mm( or customize thickness)
Operating Environment:temperature:20℃ to 35℃ humidity:60% to 80%
High quality pattern:4-5m2/h
bestek
---
Model type
6090
Nozzle configurntion
Japan espon seven generation micro piezeoletric nozzles 1-2epson

nozzles xp6001-3 GH2220 interdustrial nozzles 1-4

Maximale afdrukgrootte
600mm*900mm
The printer speed
Epson 7 generations:Two nozzles
sketch model:12-13m2/H
prduction 6-7m2/h
High quality pattern 4-5m2/h
Epson XP600:Three nozzles
sketch model:6m2/H
prduction 3.5m2/h
High quality pattern 2.5m2/h
GH2220:Four nozzles
sketch model:9m2/H
prduction 5.5m2/h
High quality pattern 3m2/h
Printer material
Type:Acrylic, aluminum plastic board, wood, tile, foam board, metal plate, glass, cardboard and other plane objects
Tickness:140mm
Uniform weight:15KG
Maximum size:600mm*900mm
Inkt type
Blue,mageta,yellow,black,white,,light oil
De UV-lamp
LED curinglight,2000 hours long use cooling water
RIP-software
Photoprint,Monteiro,Ultraprint;Microsoft Windows2000/XP/WIN7
power supply voltage ,power
110-220V 50-60Hz work 700W
Beeldformaat
Tiff,JEPG,Postscript3,EPS,PDF,ETC
Kleurcontrole
Comply with ICC standard,have curve and density adjustment fonction
Print resolutie
720*360dpi,720*720dpi,360*1080dpi,720*1080dpi,720*1440dpi,1440*1440dpi
Operating environment
temperature:20℃ to 35℃ humidity:60% to 80%
Apply the ink
Ricoh and LED-UV ink,solvent,textile ink
The machine size(mm)
1600*1500*700
Packing size(mm)
1700*1600*800
Product Picture
---

Machine advantage
---

Machines for advertising industry, glass processing industry, the home improvement industry, the furniture industry,
handicraft processing industry, leather industry, printing packaging and printing industry, mobile phone shell industry, toy industry, jewelry industry and so on.
Toepassing
---
Flatbed digital printers use inks made of acrylic monomers that are then exposed to strong UV-light to cure, or polymerize them. This process allows for printing on a wide variety of surfaces such as wood or metal, carpet, tile, and even glass.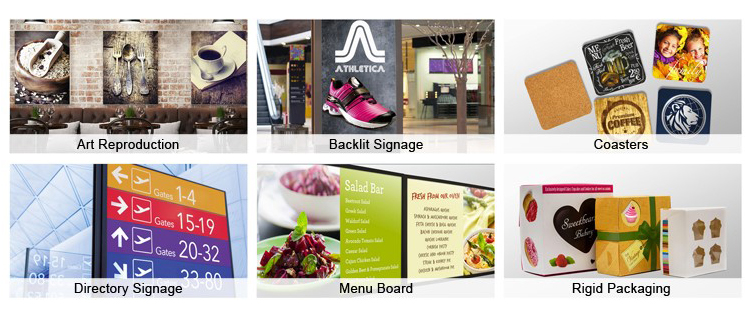 bedrijfsinformatie
---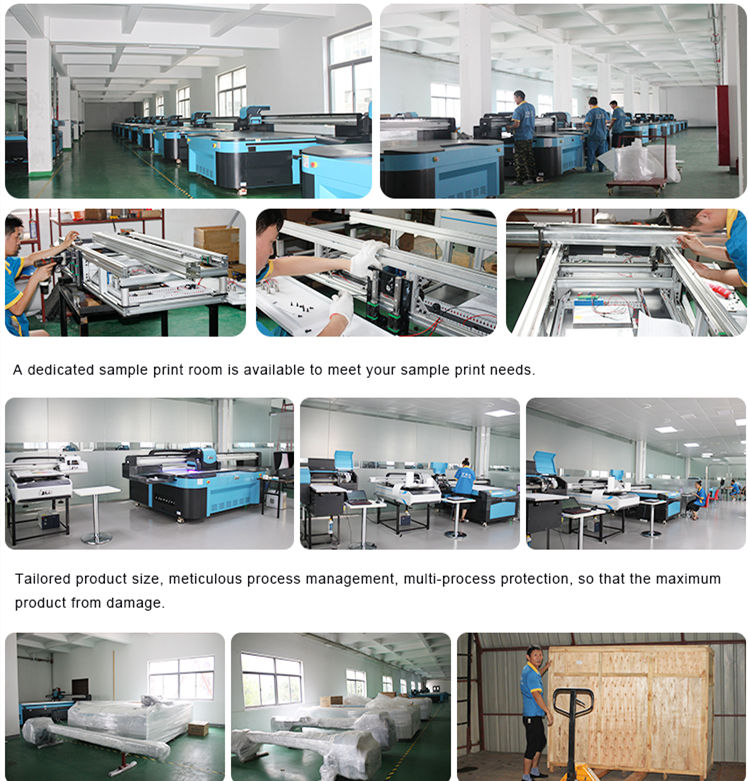 FAQ
---
1) Wat is uw levertijd?
Our delivery lead time is within 10 working days after tt deposit received.
2) Wat is uw betaalmethode?
Payment method is T/T (Wire Transfer) or LC, PAYPAL,Western Union etc. it depends on the country difference.
3) Hoe een machine bij u bestellen?
After you confirm the order details, we will send you Proforma Invoice, including our bank account. We will prepare the order on receipt of payment. The shipping documents will be sent to you in around one week after shipment date of departure.
4) Als ik een technisch probleem heb, hoe kun je ons dan helpen het op te lossen?
Gedetailleerde beschrijving, foto's of video helpen onze technicus het probleem te analyseren en dienovereenkomstig een oplossing te geven.
5) Once there is something need replace, what can I do?
We leveren alle reserveonderdelen voor de printer. Als een onderdeel defect is, zullen we het repareren of nieuwe onderdelen sturen nadat gebruikers de kapotte hebben teruggestuurd. We raden gebruikers aan een reserveonderdelenpakket te bestellen voor langdurig onderhoud en snelle vervanging.
6) Hoeveel belastingen moeten we betalen?
Please consult your local customs or import agent for details. Thanks.
7) Kunnen we onze technicus naar uw fabriek sturen voor training?
Ja, u bent van harte welkom om ons te bezoeken voor gratis training.
8) We want to become exclusive distributor of your machines?
We verheugen ons op uw nauwe samenwerking. Nadat u de eerste machine hebt besteld en in staat bent om een service aan te bieden, kunnen we beginnen te onderhandelen over de distributierelatie. Dank je.
9) Hoe zit het met de garantie?
12 maanden garantie op onze machines. Tijdens de garantieperiode sturen we gratis onderdelen ter vervanging (printplaten), terwijl kapotte onderdelen moeten worden teruggestuurd.